Thomas in Paris-Bercy (1996)
---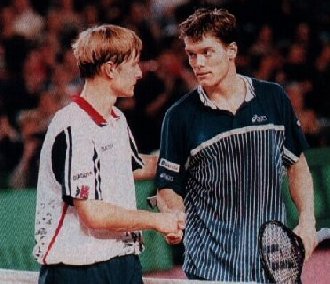 Sunday November the third, Thomas Enqvist beat Roland Garros champion Yevgeny Kafelnikov 6-2, 6-4, 7-5 to capture the Paris Open for the biggest payday of his career. Kafelnikov, seeded 4 and Enqvist, 12 were the only seeds to get past the third round in the tournament.
Thomas didn't lose any set during the week. First he dominated easily Reneberg (6-4, 7-5) and Moya (6-2, 7-6). On Friday, he stopped Stephan Edberg's run in the next to last pro tournament of his career (6-4, 7-6).
In spite of two break balls at the beginning, Edberg didn't manage to disturb Enqvist. The second set was tighter even if Enqvist dominated.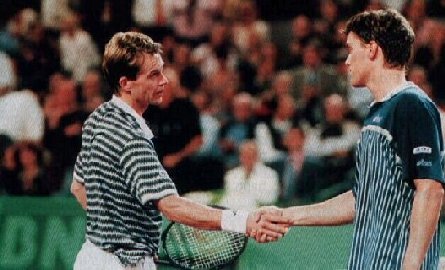 Thomas could lead 2-0 and then 4-2 but the former world champion manage to prolong the suspens till the tiebreak. Edberg lead 5-2 but Enqvist came back without shaking. Finally, Thomas won the match at 22:40 through a great return.
Saturday, Thomas 's match against Gustafsson (6-3, 6-2) was more easy. Indeed Magnus Gustafsson was handicapped by an abdominal ache.
Sunday, ten minutes into the match, Enqvist was up 4-0 behind sizzling service returns and penetrating groundstrokes. He went on to take the first set as they split the next four games. Enqvist served just four aces in the second set but three came at key times. He ended two games with an ace and another brought him to set point, which he won with a service winner. Kafelnikov gained the lead for the first time in the match when he went up 3-0 at the start of the third set, dropping just one point in those games. But Kafelnikov lost his next service game at love with a double fault and a netted smash. Things were even in the third set until 5-5. Then two unforced errors by Kafelnikov and two winners by Enqvist put the Swede up 6-5 and serving for the match. Thomas ended it in style, serving four aces.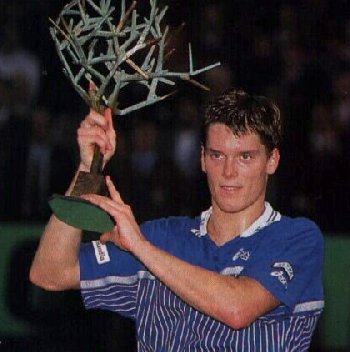 Enqvist served 20 aces, including four in the final game, and closed the match against the Russian in 1 hour, 31 minutes. In winning his ninth career title and second this year, Thomas earned $393,000.
"He was on top of me from the beginning and didn't give me any chances to come to the net. When I made good shots, he made better shots", Kafelnikov said.
For Enqvist, "If you give Kafelnikov a little bit of a chance, he'll probably come back and win it. It was very important to serve well against him. It allowed me to play harder and be more aggressive. I felt like I couldn't lose. I was kind of playing out of my mind. I was in a zone today."

Original text from Thomas Enqvist Fan HomePage