---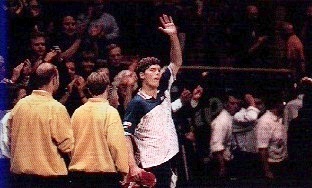 Thomas Enqvist, the Swedish No 1, has developped into a most reliable Davis Cup player. In beating Marc Rosset 6-3, 6-2, 3-6, 6-2, he took his country to an untouchable 3-1 lead against Switzerland.
It was the 8th straight Davis Cup win for Enqvist in a live rubber. The last time he lost a vital singles in the Cup was versus the American Todd Martin in the semis at Las Vegas in September 1995. Since then the hardhitting 22 year old from Stockholm has been ruthless when he has represented Sweden in team competitions. Rosset entered the arena - Pontushallen in Lulea in the north part of Sweden - with a clean 3-0 record against Enqvist. But it was obvious from the very start that the tall man from Switzerland felt the tough programme. On Friday he outlasted Magnus Larsson 13-11 in the fifth and on Saturday he lost in the doubles after yet another fivesetter. As a comparison, Enqvist had a fairly easy singles against Lorenzo Manta (7-6, 7-6, 6-2) on Friday and rested from the doubles.
In the first two sets, Enqvist dropped just 4 points in his own serve. He broke Rosset in the sixth game of the first set and twice in the second to 2-1 and 5-2. After the Swedish dominance for about one hour, Rosset started to play with greater determination and was rewarded with his first break of the match when he advanced to 3-1 in the third with strong attacks from backcourt. The Swiss then hung on in his serve to win the set 6-3. However, Enqvist got the initiative back in the tense fourth set which he won after an important break to 4-2. When Rosset lost that game, he was warned by umpire Jeremy Shales of Great Britain for racket abuse. The disappointed Rosset, who produced 18 aces against 12 for Enqvist, lost his serve again in the last game of the match. Enqvist was jubilant in victory.
"I love to play in Davis Cup", he said. "And I love to play for Sweden. We have a wonderful team spirit, and it certainly helped me a lot today."

Statistics
| | | |
| --- | --- | --- |
| | Thomas Enqvist | Marc Rosset |
| 1st Serve: | 46 | 53 |
| 2nd Serve: | 40 | 39 |
| Aces 1st Serve: | 12 | 18 |
| Aces 2nd Serve: | 0 | 0 |
| Double Faults: | 4 | 7 |
| Return Winners: | 5 | 3 |
| Break Points: | 8 | 3 |
| Breaks: | 5 | 1 |
| | | | | |
| --- | --- | --- | --- | --- |
| Thomas Enqvist | 6 | 6 | 3 | 6 |
| Marc Rosset | 3 | 2 | 6 | 2 |
Text from DavisCup by NEC