---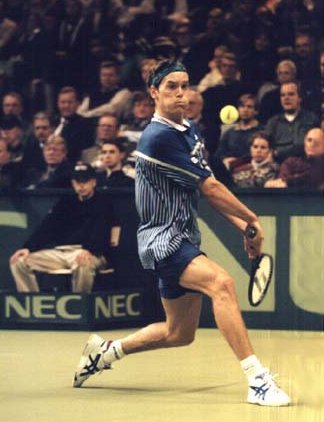 World No 7, Thomas Enqvist gave home favoured Sweden a 1-0 lead in the quarter final in Davis Cup against South Africa at Vaxjo. But Grant Stafford gave Enqvist a strong fight before the Swede won 7-5, 2- 6, 6-4, 6-1.

And this was according to the calculation. Enqvist has been celebrating victories in 11 ATP events while Stafford still is waiting for his big tournament title. However, the match was much closer than expected and the crowd in the huge indoor arena was thrilled in a dramatic battle, lasting 2 hours and 22 minutes.
In the beginning of the match, Enqvist seemed a little tense and made quite a few unforced errors from the backcourt. Stafford (No 69 on the ATP ranking) started well and earned the first break to go ahead to 4-3.

Enqvist came back and broke back to 5-5 since the South African had netted a few volleys. Stafford held two breakpoints in the 11th game, but Enqvist survived the crises and finally took the set 7-5 on his fourth setpoint on which Stafford landed a forehand just behind the Swedish baseline. The visitor put the disappointment behind him and opened the second set by capturing the Swede's serve to love to grabb a 1-0 lead. Stafford continued to show aggressive and effective tennis and won the set at 6-2 after another break in the seventh game.

The third set was very even. Both players had their opportunities to win in the opponents serve but it was first in the 10th game the break arrived. Enqvist got it when he knocked in an untouchable forehand on his first set point 6-4. After that the 23 year old home player started to relax and played beautifully in the fourth, serving thunderous and returning well. He broke in the third and fifth games to win easily, 6-1.

Enqvist made 19 aces and 10 double faults. The corresponding figures for Stafford: 6 and 7.
| | | | | |
| --- | --- | --- | --- | --- |
| Thomas Enqvist | 7 | 2 | 6 | 6 |
| Grant Stafford | 5 | 6 | 4 | 1 |
Text from DavisCup by NEC