---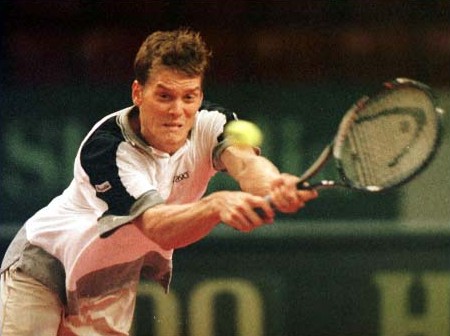 Italy came back with magnificent willpower in the Davis Cup semi final vs Sweden in Norrköping when Renzo Furlan (No 84 in the world) beat Thomas Enqvist (o 15) to make the score 1-1.

Furlan won 3-6, 6-3, 6-4, 3-6, 6-3 after 3 hours and 10 minutes in a fight which included a surprice amount of long, tiring rallies from the back court.

The match started dramatically, with three breakes in the opening set. Enqvist lost his serve to love in the seventh game but broke through in the fourth and eight games to go ahead, 6-3.

So far, the Swede had dominated with his powerful groundshots from both flanks, but from the beginning of the second set, Furlan started to put up a strong opposition. On fast feet the visitor passed Enqvist on several occasions, and he grabbed Enqvists serve for a 4-2 lead.

Furlan hold serve for the duration of the set which he captured at 6-3 after Enqvist have saved three set points before netting a tame backhand on the fourth.

With growing selfconfidence, Furlan took more initiatives and played with remarkable aggression to break in the third game in the vital third set. Instead of hanging with the head, Enqvist boldly battled back to level at 2-2. Furlan gained a new break to 4-3 and reached a setpoint at the opponents serve in the ninth game. Enqvist saved that one with a crisp forehandvolley but had little to offer when Furlan in the next game easily served home the set to 6-4.

Enqvist made a fine effort to try to turn the table when he went to 3-1 in the fourth set, with Furlan doublefaulting on the breakpoint. Games then went with serve for the rest of the set: 6-3 to the home player.

For the second time the 3 321 spectators at Himmelstalundshallen was to enjoy a five setter on this thrilling Friday.

But this time it was Italy's turn to win the important points. Enqvist broke to 3-2 but the hardfighting Furlan came back in impressive manners. He took the Swedes serve in the 6th and 8th game and recorded his first victory against Enqvist in three meetings.

Enqvist pumped in 15 aces and Furlan 11, but the Swede made many more doublefaults than his rival: 8 compared with 3.

Text from DavisCup by NEC