---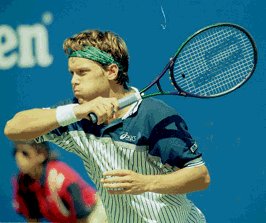 The final score in the Davis Cup semi finals between Sweden and Italy at Norrköping read 4-1 after Thomas Enqvist had beaten Omar Camporese 6-3, 6-7(5-7), 6-3 in the fifth and "dead" rubber on Sunday.

Enqvist had four matchpoints already in Camporeses serve in the ninth game in the second set but had to work all the way before he clinched the match in the third set.

Enqvist, who will hunt his third straight Stockholm Open title later this autumn, has got his season partly ruined. Due to injuries and illness, the tall Swede missed all of the three biggest tournaments (French Open, Wimbledon and US Open).

However, he is hopeful for the future and is calculating with a strong finish on the year and an improved 1998.



Text from DavisCup by NEC