Thomas in Marseille (1997)
---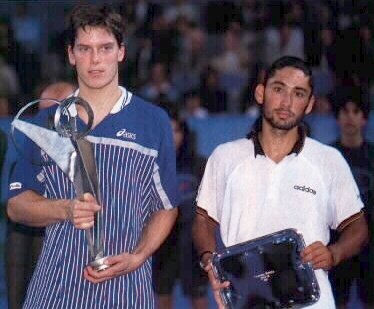 Sunday 16 february 1997, Thomas Enqvist continued is remarkable success in ATP Tour finals, winning the $539,250 Marseille (France) Open-13. All along the week, Thomas showed his class with victories over Patrick Frediksson (6-1 6-2), Dominik Hrbaty (6-3 6-2), Henrik Dreekmann (6-4 3-6 6-1) and easily defeated unseeded Frenchman Fabrice Santoro in straight sets (6-4 6-3) in Saturday's semifinals.
Enqvist began the year with an heavy schedule, playing in Doha, Melbourne and Zagreb. Moreover, Thomas played in the Davis Cup competition and had an hard match against Rosset. "And until now everything goes well", he said.
Thomas served 49 aces and showed his strength with flashing returns. Moreover, Joakim Nyström, his coach was absent (on holidays with his childs) and Lars Martinsson, his physical coach went along with him.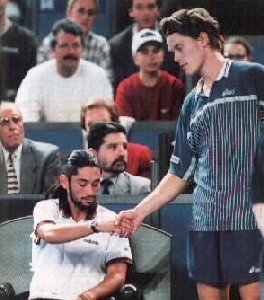 Enqvist (seeded two), who picked up $72,000 for the victory, was leading 6-4, 1-0 when Rios (first seed) aggravated a strained quadricep muscle in his left leg. He originally suffered the injured in his three-set semifinal victory over Sergi Bruguera of Spain on Saturday.
"It is a disappointing way to win. I'd rather have played the whole match because I felt very confident since the start of the tournament. I'm sorry for Marcello, we all wanted a longer match" Enqvist said.
Enqvist, Sweden's top player, improved to 11-1 lifetime in singles finals and improved to 3-1 lifetime against Rios, the only loss coming in the fourth round of the Australian Open, with Rios outlasting the Swede in five sets.

Original text from Thomas Enqvist Fan HomePage