Year 96
---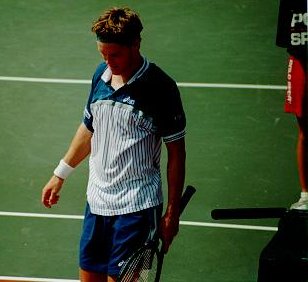 1996 HIGHLIGHTS
Prize money: $1,668,547
Matches won-lost: 48-24 (66.7%)
Singles Winner: New Delhi, Paris-Bercy Open, Stockholm Open
Finalist: n/a
Semifinalist: Cincinnati, Lyon.
Quarterfinalist: Australian Open.
Doubles Semifinalist: Dubai.


1996 IN REVIEW
On February 19, Thomas achieved his highest singles ranking ever at #6 and his highest doubles ranking at #189. He won titles in New Delhi, Paris-Bercy Open and Stockholm Open in the course of the year and although he was #9 at the end of the year, he played in the ATP Tour World Championship, replacing an injured Andre Agassi. There he defeated Boris Becker in straight sets but did not advance to the semifinal round. Although Thomas preferred to stay focused on his singles game, he fine-tuned it with some doubles play. He and Jim Courier finished the year ranked #162 as a team and Thomas' individual doubles ranking was #357. Thomas this year posted victories over world No. 1 Pete Sampras, Wimbledon champion Richard Krajicek and French champion Yevgeny Kafelnikov.