---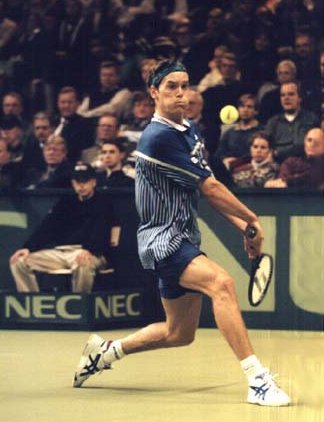 Thomas Enqvist levelled the series when he scored an impresive 6-4, 6-3, 7-6(7-2) victory over French number two Arnaud Boetsch in exactly two hours of play. Earlier in the day, Cedric Pioline fired the opening salvo when he defeated an injured Stefan Edberg 6-3, 6-4, 6-3.

Enqvist showed why he is one of the most in-form players on the circuit right now. The Swede, who won back-to-back titles at Paris-Bercy and Stockholm during the last month, was aggressive with his game from the start. He said that he was just "trying to win every point possible" against Boetsch who he had lost to in their previous meeting, recently in Lyon.

"I played well or I would have lost," said Enqvist. "We (he and Boetsch) have had some tough matches in the past and we are very close with our games."

Enqvist added that he did not feel the pressure of Edberg's earlier loss to Pioline. Enqvist broke serve in the tenth game of the first set to take that. He then broke in the eighth game of the second to wrap that one up as well. Things were moving along smoothly when he scored a break in the first game of the third, but then in the eighth, the Swede's game suffered its only hiccup. He admitted to having a lapse in concentration and that briefly permitted Boetsch to recover and force the tiebreaker. However, the world number nine stormed through the breaker losing just two points.

Enqvist said: "I would have been happier if Stefan had won but all week it has felt great to be in a Davis Cup final. It has been great fun and I went out on court and just had fun. This has been quite an experience."

In the first match, the Swedish part of the packed stadium were unusually quiet but they certainly started to find their voice and became louder as Enqvist began to get on top of the Frenchman.

Boetsch said that he was never really allowed to play his own game and he was pressured from the start. He was not able to find his rhythm and Enqvist made far fewer errors than when they played in Lyon.

"I served better but then so did he," said Boetsch. "He was more solid with his game and I will have to play better on Sunday in the next singles, that's my goal. I have to put this out of my mind. I am sad for my team, not for me, because we are all friends."


Text from DavisCup by NEC