---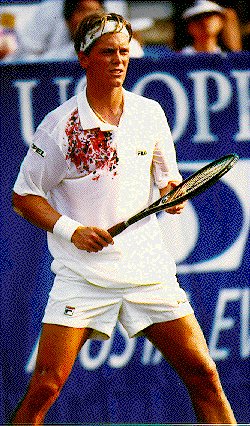 See also: Analysis of his game by Stephane Oberer
SINGLE TITLES
---
CAREER HIGHLIGHTS
See unpublished pictures of his youth!
Won Donald Duck Cup in 1985, 1987 and 1988: Won European 14s...
1990 - French Open Jun to Gaudenzi...


1991 - In Jun singles won Australian Open over Gleeson, Wimbledon over Joyce and was r/u French Open to Medvedev to finish the year at No 1 in the ITF Jun singles rankings. In Jun doubles won French Open with Martinelle...


1992 - Made his mark in the senior game right from the start of the year at Australian Open, where he was the only player apart from Edberg to take a set off Courier. Reached qf Adelaide, Bastad and Indianapolis and in autumn won his 1st tour title at Bolzano...


1993 - Although he finished the year with an 18-23 record and a ranking of #87, he won Schenectady in Aug., upsetting Lendl on the way, and followed with sf Vienna (d. Volkov) and qf Bordeaux. Upset Agassi at US Open, where he was unseeded...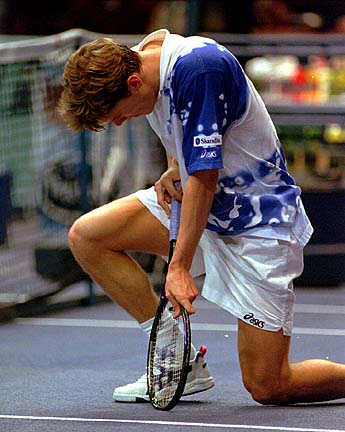 1994 - Hampered by knee problems through the year: he underwent surgery for patella tendinitis of the left knee in March, took 3 months to get back into shape, and underwent surgery on the right knee in Nov. However, he still managed to reach sf Auckland, qf Memphis (d. MaliVai Washington), Toronto (d. Korda and Yzaga), Washington (d. Yzaga again), Indianapolis and Schenectady; upset Korda (1r Australian Open) and Kafelnikov at Cincinnati...

1995 - Auckland, Philadelphia, Indianapolis, US CC, Stockholm. He continued to cause some big upsets; he beat Volkov on his way to the title at Auckland, Agassi and M. Chang to take Philadalphia, Ivanisevic and M. Chang at Montreal (where he lost sf to Sampras only7-6 fs), and surprised Ivanisevic three times more on his way to f Los Angeles, sf Cincinnati and then the title at Indianapolis. That last reult took him into the tip 10 and ahead of Larsson to the No. 1 slot in Sweden. He also won US CC and reached 6 more qf to qualify for his 1st IBM/ATP Champ. There he was inspired, being the only player unbeaten in rr and falling only 7-5 fs to Becker in sf.

1996 - On February 19, Thomas achieved his highest singles ranking ever at #6 and his highest doubles ranking at #189. He won titles in New Delhi, Paris-Bercy Open and Stockholm Open in the course of the year and although he was #9 at the end of the year, he played in the ATP Tour World Championship, replacing an injured Andre Agassi. There he defeated Boris Becker in straight sets but did not advance to the semifinal round. Although Thomas preferred to stay focused on his singles game, he fine-tuned it with some doubles play. He and Jim Courier finished the year ranked #162 as a team and Thomas' individual doubles ranking was #357. Thomas this year posted victories over world No. 1 Pete Sampras, Wimbledon champion Richard Krajicek and French champion Yevgeny Kafelnikov.

1997 - News about Thomas in 1997 can be found at Year 97 page! I will not add Thomas' 1997 season summary here until after the '97 season.